Product Overview
AuditFile delivers intuitive interfaces, simple pricing, no contracts, and a powerful feature set that's geared toward making audit processes, tracking, management, and accuracy simple, too.
Cloud Based
AuditFile delivers all the benefits of a paperless audit system without the need to download or install any software. Your firm will easily maintain compliance with all auditing standards and requirements, and your data and files are more secure and accessible than ever.
No contracts to sign
No software to install
Flexible, pay-per-user pricing
Sign Up

Now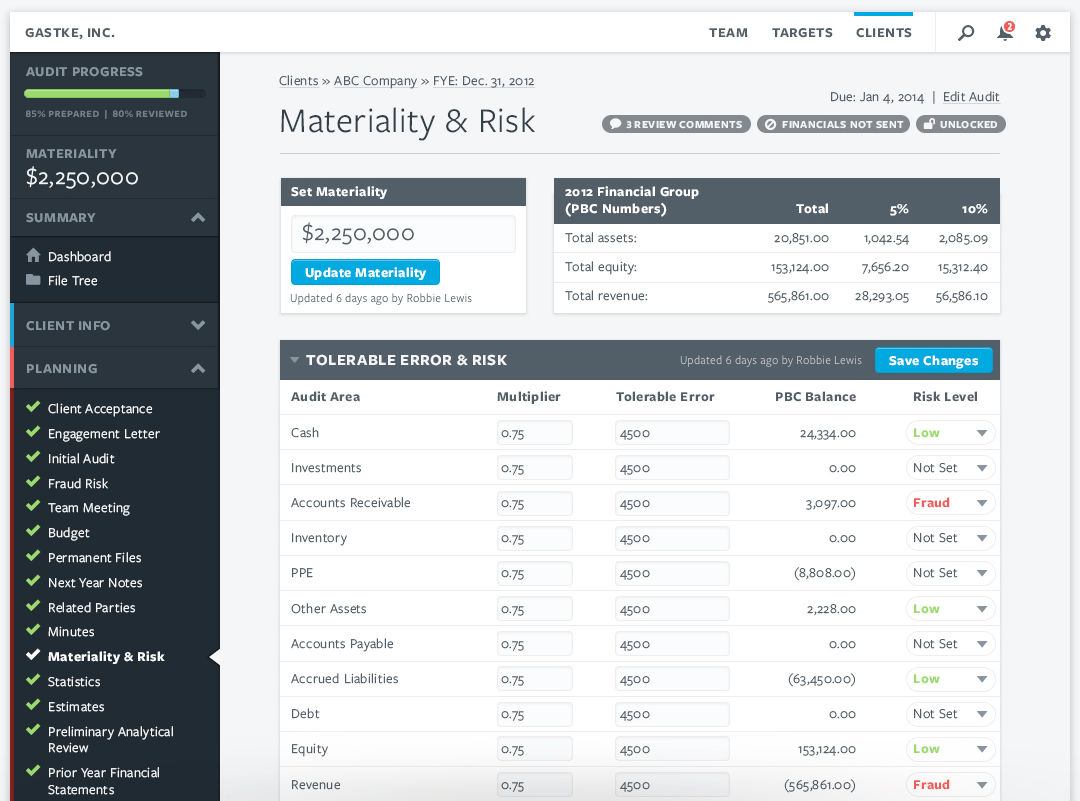 Tracking & Analytics
More than just a tool for auditors, AuditFile tracks firm metrics from top to bottom, enabling the entire organization to operate at peak efficiency.
Intuitive, real-time dashboards and notifications
Target tracking and other firm analytics
One-click financial statement generation
Sign Up

Now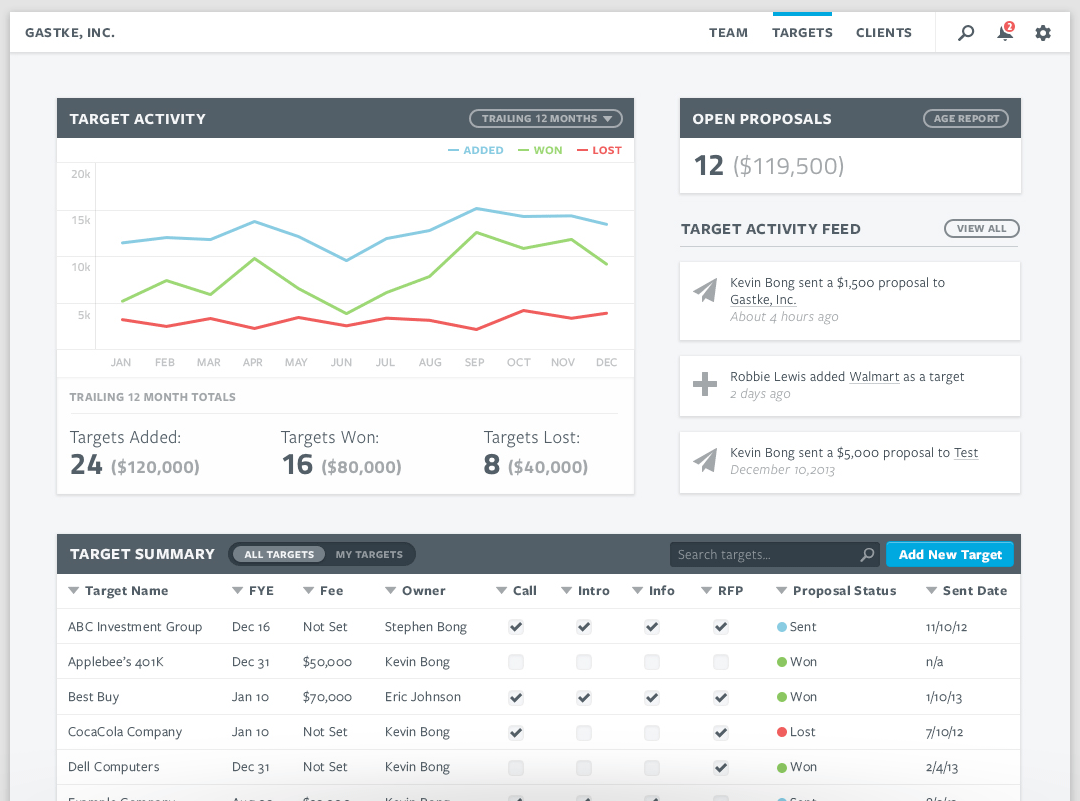 Security
Every transaction is protected with 256-bit Transport Layer Security (TLS) encryption— your data and files are dramatically more secure with AuditFile than when they are stored on local hard drives and laptops. Learn more about our AuditFile security and compliance here.
256-bit TLS encryption
Complete backups nightly
Built on the industry-leading Amazon Web Services platform
Sign Up

Now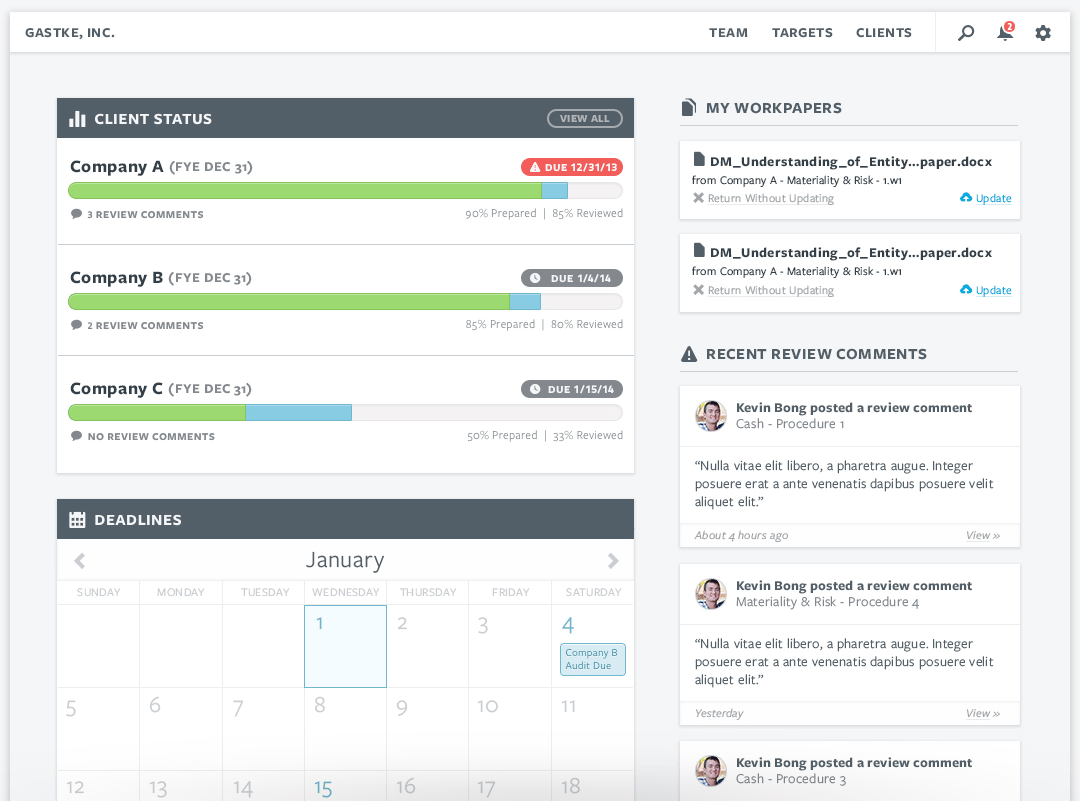 Mobile Access
AuditFile can be accessed from any connected device, anywhere in the world, 24 hours a day, 7 days a week. On a job site, from home, in the office, traveling abroad… AuditFile is built to work where you do.
Supports smartphones, tablets, laptops, and desktop computers
Access your audits anytime, anywhere
Streamlined communication between team members
Sign Up

Now
Industry Specific & QCM Reviewed
AuditFile includes the latest Advantage Audit programs and planning documents for industry-specific audits, reviews and compilations. Custom programs can also be loaded in.
QCM Review AICPA Peer Review Program: PASS
Easy to use, step-by-step, modules based on professional standards
Risk-based planning tools, audit programs, and sample client letters
Automated planning tools for key areas
Sign Up

Now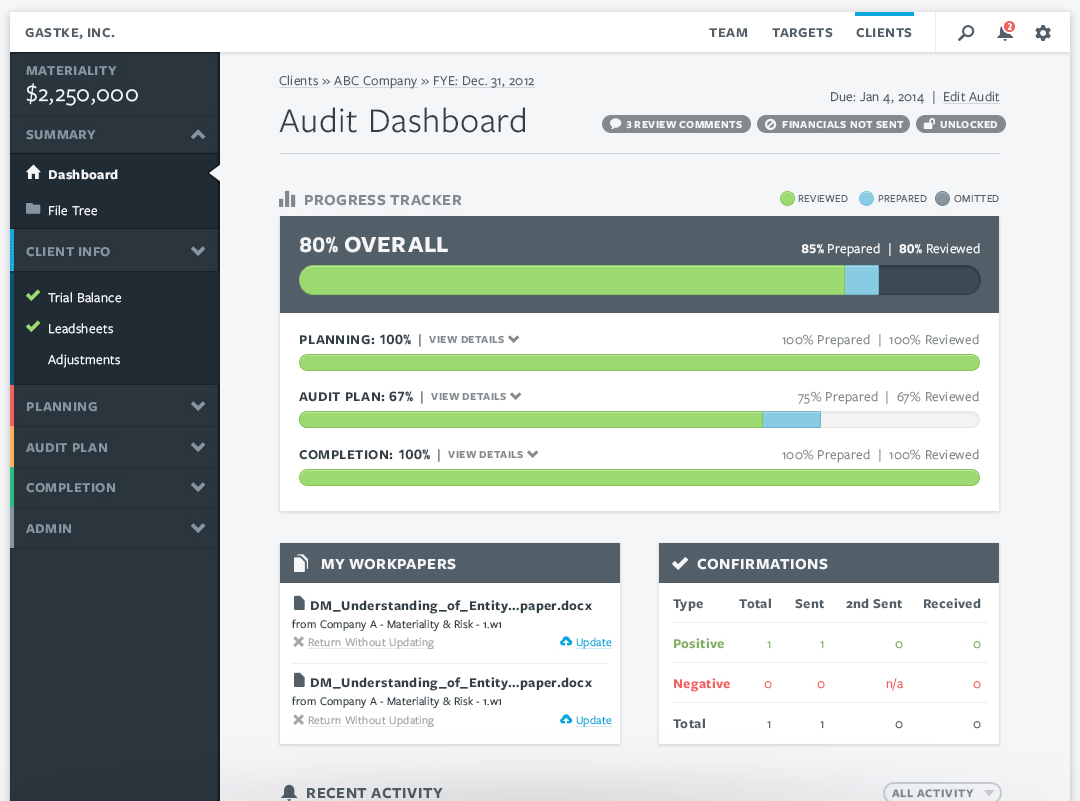 More AuditFile Features
| | | |
| --- | --- | --- |
| | Industry Specific Programs | AuditFile includes the latest Advantage Audit programs and planning documents for industry-specific audits, reviews and compilations. Custom programs can also be loaded in. |
| | Microsoft Office 365 Integration | Enable multiple team members to live edit or review workpapers at the same time in AuditFile. |
| | Microsoft Excel and Word Add-ins | Dynamically link AuditFile content to Excel and Word workpapers. |
| | Cloud-based with Unlimited Storage | Your data is dramatically more accessible and secure than with local storage. |
| | Bank Level Security | Two-factor authentication and 256-bit TLS encryption ensures the privacy and security of your data. |
| | Real-Time Audit Progress Tracking | Track all aspects of an audit with an easy-to-read dashboards and real-time notifications. |
| | Manage Audit Risk | AuditFile analyzes key engagement characteristics to help make the best use of your time. |
| | Profession Standards Compliance | AuditFile ensures your engagements are up-to-date with professional standards. |
| | Mobile Access | Access your audits from any connected device, anywhere in the world. |
| | Smart Search | Advanced search capability makes it easy to find any workpaper, comment, or account in seconds. |
| | Firm Analytics | Track critical metrics in real time to help your firm operate at peak efficiency. |
| | One-click Financial Statement Generation | Create important letters and statements with a touch of a button. |
| | Intelligent Trial Balance Upload | Takes the pain out of uploading trial balances. AuditFile also integrates with Xero and QuickBooks Online. |
| | Enterprise Social Networking | Real-time news feeds and notifications keep the entire engagement team up to date. |
| | Final Lock Diagnostic | Ensure that all procedures have been addressed and there are no loose ends when you lock your file. |
| | User Management | Easily set custom permissions and settings on a user-to-user basis. |
| | CRM Package Tailored to CPAs | An easy to use CRM package that tracks each partner's progress and help win more proposals. |